I focus my educational and consultation efforts on young adults and working professionals.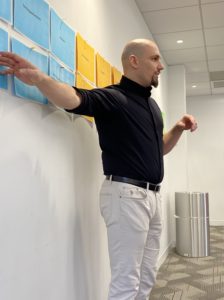 Matters of sexuality can be complex. As a sexuality professional, I focus specifically on areas of:
Issues of sexuality at Catholic Colleges and Universities
Sexual consent, ethics, and decision-making
Raising awareness around sexual diversity
Cross-cultural sexuality
Sexuality and faith (navigating within and recovery from)
Sexuality research methods
Theory and practice in sexuality education and sex therapy
Much of the work around helping others understand their own sexuality and where they stand in the sexual climate of those around them involves education.
Services I offer include:
---
One-to-one consultations to educators, clinicians, and individuals to help better understand matters of sexuality.
Supervision for those looking to become AASECT Certified Sexuality Educators.
Group consultation for organizations

to better address issues of sexuality and gender at their institutions.

Individual consultation to scholars

looking to publish in the field of social science and

doctoral students

working on their dissertations

Larger speaking events

on a wide variety of topics including sexual health, sexual diversity, consent, Catholic sexual theology, and more.
---
For more information about services or inquiries about special topics, head to the contact page.